History of the Parish of Lezant is an agricultural parish in North Cornwall measuring and is designated an Area of Great Landscape Value with part of the parish being within the Tamar Valley Area of Outstanding Natural Beauty. The parish is situated between Launceston to the north and Callington to the south. The population of the Lezant Parish in the United Kingdom Census (2011) census was 756. The major centres of population are based around six villages: Lezant, Trebullett, Trekenner, Treburley, Rezare and Higher Larrick.
History, Lezant Parish, Lezant village, Trebullett, Trekenner, Treburley, Rezare, Higher Larrick, St Briochus Parish Church, Trebullet Methodist Church, Trekenner County Primary School, St Briochus Parish Church Hall, Trebullet Methodist Church Hall, Lezant Parish playing field Jubilee Field, Treburley Social Club, Treburley industrial estate, Treburley Garage, motor repair workshop, Springer Spaniel public house, Restaurant, River Inny, River Tamar, Little Comfort, Greystone Quarry, A388, Launceston, Callington
OgImage: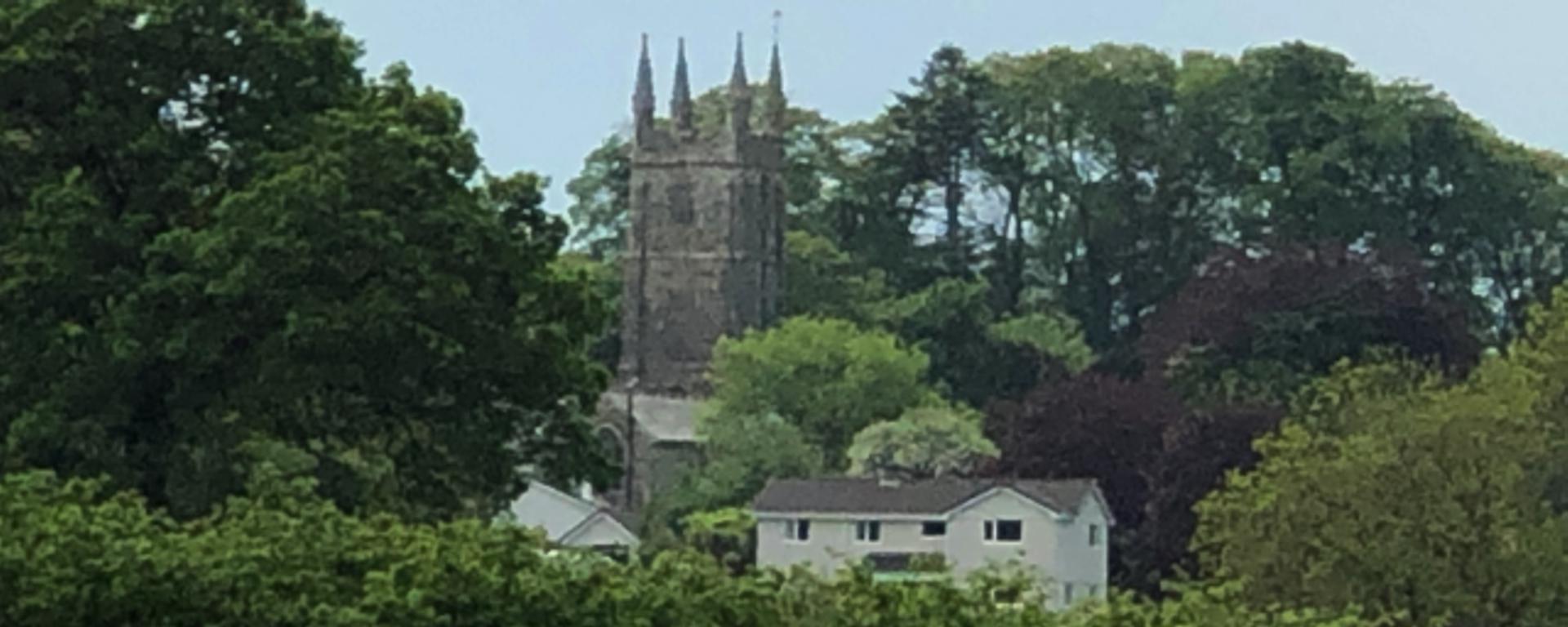 Lezant (Cornish: Lannsant) is a civil parish and village in east Cornwall, England, United Kingdom.
Lezant village is about five miles (8 kilometres) south of Launceston. The population of the parish in the 2001 census was 751, increasing slightly to 765 in the 2011 census.
The parish of Lezant is in the Launceston registration district. The county border with Devon forms the parish's eastern boundary. It is bounded on the north by South Petherwin and Lawhitton.
Greystone Quarry and Bridge
A historically important road crossing of the River Tamar is 2 miles (3.2 km) from the village at Greystone Bridge; the arched stone bridge was built in 1439. Greystone Bridge is the site of a large aggregate quarry operated by Bardon Aggregates. The quarry walls are designated as the Greystone Quarry SSSI (Site of Special Scientific Interest), for its geological characteristics.[5]
Churches
Lezant parish church is dedicated to St Briochus and was considerably restored in 1869. There was formerly an ancient chapel at Trecarrel (or Trecarrell) (see below) dedicated to St Mary Magdalene but it no longer exists.
The parish of Lezant lay within the bishop's peculiar manor and deanery of Lawhitton. The high altar of the church was rededicated in 1336; part of the chancel dates from slightly earlier than that. The rest of the spacious building is of the 15th century and there is a fine tower. In medieval times there was a chapel of St Lawrence (mentioned in 1447) and at Landue a chapel of St Bridget. There was an oratory of the Wyse family at Greystone in 1329.
The above source courtesy of Wikipedia

Trecarrel
Trecarrell is a scheduled ancient monument and steeped in history. There is evidence of a 2nd Neolithic camp; a Bronze Age burial site; an early Mediaeval village and a former Deer park, with a scattering of very large carved granites.
The grandest building is the Great Hall. This early 16th century hall was built by Sir Henry Trecarrel and was intended to be part of a large mansion but never completed. The worked granites however were gifted to rebuild four local churches with the outstanding one at the intrinsically carved granite church, St Marys at Launceston.
The Great Hall is impressive with fine perpendicular windows and an oak wagon roof. The detached Ladye chapel dedicated to St Mary Magdalene was licenced 1383 and constructed along the St Mary and St Michael lay line which wends its way to Glastonbury.
The present building circa 1500 AD is built on the foundations of an earlier Christian oratory, circa 600 AD and has three large tracery headed windows and four buttresses. The Grade 1, Great Hall, Chapel, and Manor house, have undergone extensive restorations from 1960.
King Charles 1st spent the night at Trecarrell, the home of Ambrose Manaton, on 1st August 1644 with an army of 27,000 men. Its stained-glass windows, sadly no longer there, were so impressive that they were documented in the Kings diary.
In 1821 it was the home of Antony Geake whose two false periods of imprisonment led to a change in the Tithe laws in 1831 when Tithes could be honoured by monetary payments.
Although Trecarrell is private, group visits can be arranged by appointment.
Trecarell article courtesy of Neil Burden